Illustration from the manuscript of the Romance of Varqa and Gulshah, c1250.

FIG. 42.-67, 65b: Gulshāh va à la tombe de Warqah et se jette sur la tombe (deux scènes réunies); de droite à gauche: la tombe, Gulshāh, une litière de femme et deux chevaux; Gulshāh se jettant par terre, un cheval; inscription (sur la litière): "Gulshāh se jette de la litière."
FIG. 42.-67, 65b: Gulshāh goes to the tomb of Warqah and throws herself on the tomb (two scenes together), from right to left: the tomb, Gulshāh, a litter of woman and two horses; Gulshāh throwing herself on the ground, a horse; inscription (on litter): "Gulshāh gets out of the litter."


f.67/65b Gulshah finds the tomb of Warqa. Varka mezarda. Next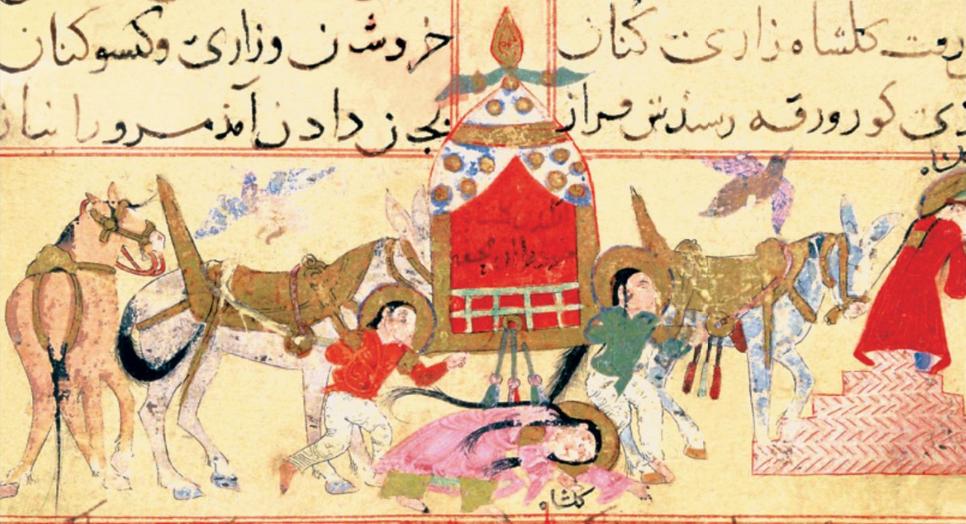 Picture Source: Heydar Aliyev Foundation


Back to the Romance of Varqa and Gulshah, page 7