Altar from Broddetorp Parish Church
12th century, Västergötland, Sweden
Steffans-legenden: Herodes gästabud Barnamordet
Stephen's Legend: Herod's Feast, Massacre of the Children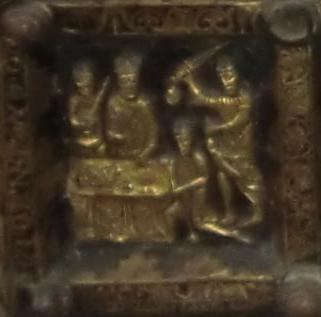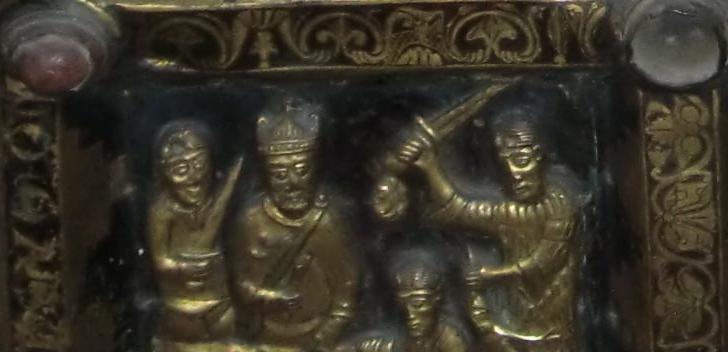 Photos by Dagjoh.





Source: Werner Forman Archive

Altar from Broddetorp Parish Church, Västergötland, Sweden. Made of gilt copper on a wooden panel in the 12th century. It may have been commissioned during the time of Bengt the Good (c. 1160 - 1190), Bishop of Skara, and was probably made in the, at that time, Danish town of Lund. On display at the Swedish Museum of National Antiquities, Stockholm.


---

pp343-4, Arms and Armour of the Crusading Era, 1050-1350, Western Europe and the Crusader States by David Nicolle
646A-C 'Massacre of the Innocents', beaten copper altar front from Broddetorp Church, West Götland, late 12th century (National Historical Museum, Stockholm, Sweden)
This embossed metalwork has sometimes been taken as evidence that lamellar armour was used in Sweden. It may, indeed, portray lamellar, but it does so in an inaccurate manner, suggesting that the artist was using an iconographic convention. It is also worth noting that the figure in the armour is one of the 'wicked' soldiers of King Herod. Lamellar might have been known in Sweden and was almost certainly used in earlier centuries. Sweden was also in close touch with the lamellar-using regions of Eastern Europe and beyond. Nevertheless, the similarity between the supposed lamellar worn by this soldier and that given to various 'infidels' in other 12th century European art casts doubt on the Broddetorp Altar as evidence for 12th century Swedish armour.



---


Referenced on p.11 MAA - 396 - Medieval Scandinavian Armies (1): 1100-1300 by David Lindholm and Angus McBride
'The Massacre of the Innocents', illustrated on a gilded altar-front from Broddetorp in Västergötland. (National Historical Museum, Stockholm)

A picture of the altar.
---
A Scandinavian lamellar corselet in Armies of Feudal Europe 1066-1300 by Ian Heath, based on the Altar from Broddetorp Parish Church, Västergötland
---

See also Scandinavian Knights on the Valthjofsstadir Church Door, Iceland, c. 1200 AD
Other Illustrations of Scandinavian Costume and Soldiers
Other Illustrations of 12th century Costume & Soldiers